Trust in the VW service center located at Team VW in Merrillville, IN, to take care of your vehicle maintenance and repairs. If you are in the market for honest service done right by skilled mechanics, schedule service and take advantage of our Team VW service specials today by calling (888) 851-2651.
Why You Need an Oil Change
Oil is an essential component that keeps your vehicle's engine running smoothly and efficiently for years to come. Dirty or old oil can become thick and block engine components, causing your vehicle to work harder than it should and hinder output. Regularly replacing your oil properly lubricates the moving parts of your vehicle's engine so that it runs smoothly.
Is it Time for an Oil Change?
In order to maximize your vehicle's performance, you should regularly get your oil changed every 3,000 to 4,000 miles if you're using traditional oil, and between 7,500 and 10,000 miles if you're using synthetic oil.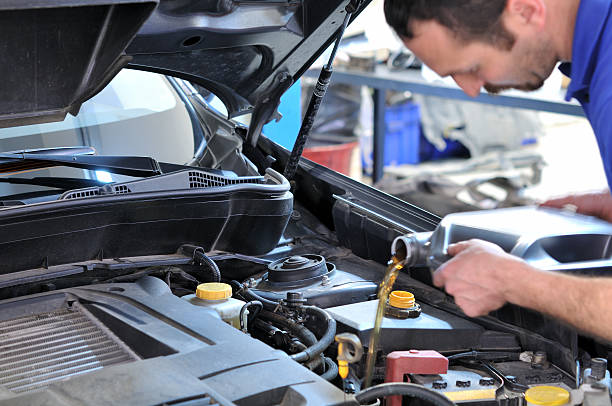 Approved Synthetic Oils
Using the proper oil for your Volkswagen is critical to the life of your engine. That is why the mechanics emphasize the necessity of using the oil that VW gas engines require: oil that complies with VW 502 00 and VW 507 00. Not all synthetic oils are the same, read some of our helpful tips below.
Volkswagen holds to strict standards to ensure use of high-quality oil at all times.
Adequate oil provides the best lubrication and protection, even in extreme driving conditions.
Proper oil helps your engine stay clean, reducing wear and maximizing performance.
Volkswagen-approved oil remains more stable in higher temperatures.
Regular oil changes with the right oil can improve your vehicle's fuel economy.
Oil Change Specials
Stay true to your budget when you go in for an oil change or another type of service at the VW maintenance and repair center through our competitive service specials when it comes to your maintenance and repair.
Schedule an Oil Change in Merrillville, IN
If you are in need of an oil change this season, our VW maintenance and repair center is fully equipped with a team of mechanics capable and ready to equip your engine with proper oil in no time. Schedule service for a VW oil change by calling (888) 851-2651 and we will be happy to get you back on the road soon.