Volkswagen Arteon vs. Jetta
2021 VW Arteon vs. Jetta | Highland, IN
Volkswagen has earned a reputation for producing some of the most stylish, modern sedans on the market, but which model is best for you? To help you make this important decision, Team VW has looked at two impressive models in the following 2021 VW Arteon vs. 2021 VW Jetta comparison page.
The 2021 VW Arteon starts at $36,995 MSRP, while the 2021 VW Jetta starts at $18,995 MSRP. No matter which sedan you prefer, you can browse our online inventory to find the VW Arteon for sale and VW Jetta for sale near Highland, IN. We also encourage you to take advantage of the Arteon and Jetta lease and finance offers on our incentives page. To get in touch with our dealership in Merrillville, IN, call (888) 824-9154 or send us a message online.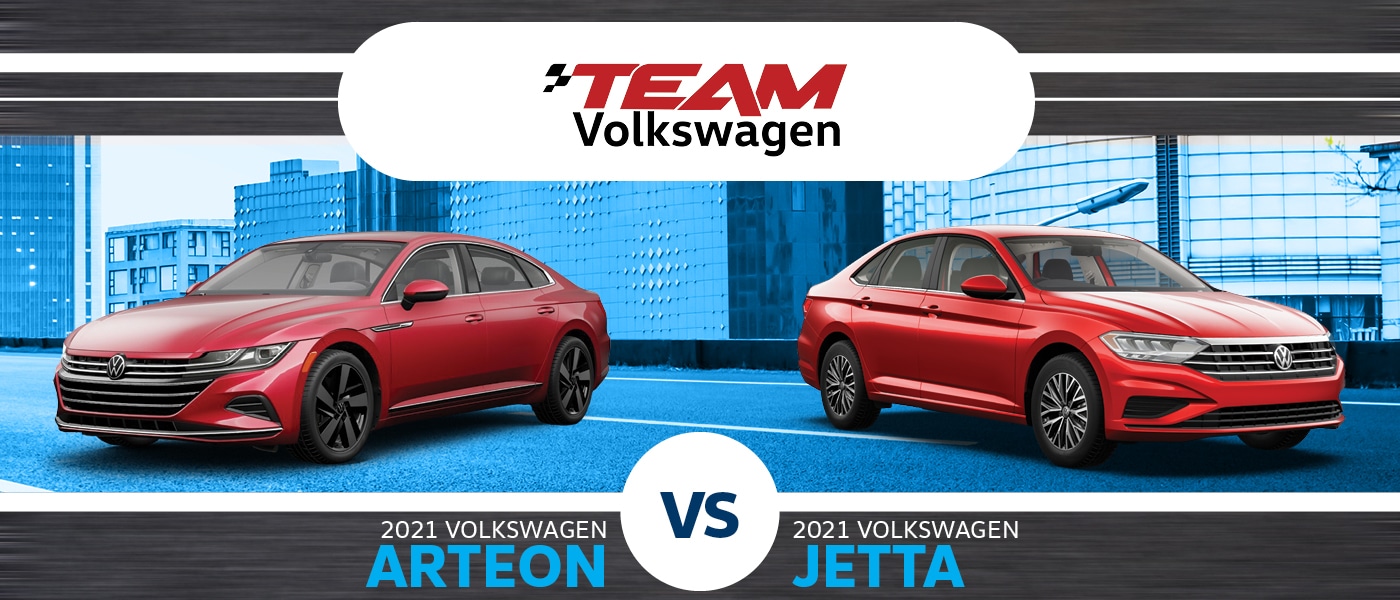 2021 VW Arteon vs. Jetta

Exterior Design

The VW Arteon features a sculpted exterior, while the VW Jetta boasts a sporty, sleek body. Both sedans are standardly equipped with LED headlights, tail lights, and daytime running lights, but there are also multiple exterior differences between the Arteon and Jetta:
The Arteon offers 18-, 19-, and 20-inch wheels. Alternatively, the Jetta offers 16- and 17-inch wheel options.
The 2021 Arteon is standardly equipped with heated sideview mirrors with a driver-side auto-dimming feature, while the 2021 Jetta can be upgraded with available heated sideview mirrors.
Higher Arteon trims offer an adaptive front-lighting system, a feature not found in the 2021 Jetta.
2021 VW Arteon vs. Jetta

Interior Design & Technology

Once inside these sedans, you'll be surrounded by sophisticated cabins and tech at your fingertips. The Arteon and Jetta both offer wireless App-Connect, heated and ventilated front seats, a remote start system, and more. Below, you'll find several interior differences between the Arteon and Jetta:
While heated front seats, an auto-dimming rearview mirror, and SiriusXM® Satellite Radio are standard on all Arteon models, those features are reserved for higher Jetta trims.
The Arteon is standardly equipped with V-Tex leatherette seating and can be upgraded with Nappa leather upholstery. On the other hand, the Jetta is standard with cloth seating and available with V-Tex leatherette or leather surfaces.
While every Arteon model features an 8-inch touchscreen display, the Jetta is equipped with a 6.5- or 8-inch display depending on the trim.
2021 VW Arteon vs. Jetta

Specs & Fuel Economy

You'll find similar turbocharged four-cylinder engines under the hood of the Arteon and Jetta, but the performance they deliver are far from the same. The 2.0L powertrain of the Arteon is sure to deliver a unique, exciting driving experience. While smaller, the 1.4L engine of the Jetta boasts impressive fuel economy without sacrificing power. Performance specs for the Arteon and Jetta are as follows:
| 2021 VW Arteon | | 2021 VW Jetta |
| --- | --- | --- |
| 2.0L turbocharged 4-cylinder | Engine | 1.4L turbocharged 4-cylinder |
| 268 HP | Horsepower | 147 HP |
| 258 lb.-ft. | Torque | 184 lb.-ft. |
| 22/32 | Fuel Economy MPG (city/hwy) | 30/41 |
2021 VW Arteon vs. Jetta

Size & Cargo Space

With seating for up to five passengers and ample space for cargo, the VW Arteon and VW Jetta are the perfect size for daily commuters and growing families alike. The Arteon offers 27.2 cubic feet of trunk space and 56.2 cubic feet of cargo space with the rear seats folded down. The Jetta measures in at 14.1 cubic feet of trunk space.
2021 VW Arteon vs. Jetta

Safety Options & Features

To further back you up while on the road, the Arteon and Jetta are equipped with a number of smart safety features. These sedans feature standard rearview camera systems, and higher trims offer adaptive cruise control, high beam control, and lane assist. Below, we've noted several differences in the Arteon and Jetta safety offerings:
The 2021 Arteon is standard with a blind spot monitor, rear traffic alert, and forward collision warning with autonomous emergency braking. Those systems are only found on select Jetta trims.
The Arteon offers a number of safety features not found in any Jetta offerings, including pedestrian monitoring, dynamic road sign display, and an overhead view camera.